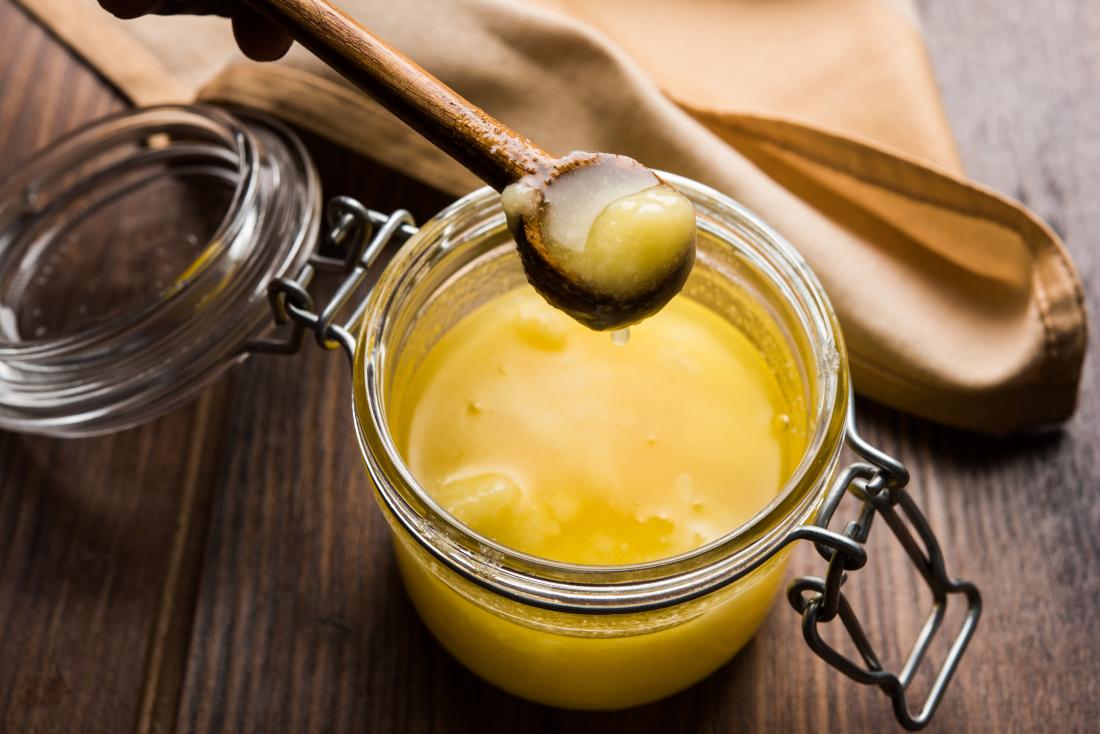 Ghee is a type of clarified butter that holds fewer dairy proteins than normal butter! Not only does it have a great taste but Ghee is well known for its DIY face remedies!
Fat: 99.8 g
Protein: 0.2g
Saturated: 64.9 g
Energy: 3,690 kJ (880 kcal)
Minerals: QuantityPotassium: 0% 6.5 mg
Eating/cooking with Ghee
Ghee has a great smoky flavor that is used in both sweet and savory cooking, it also make a great foundation for herbal powders.
Drizzled over streamed veggies and proteins
great substitute for butter when it comes to baking
Ghee is Gluten free
Great for high heat cooking
Drizzled on fresh cooked rice dishes

Home made Indian Nan
Ingredients
⅔ cup warm water (110 degrees F/45 degrees C)
1 teaspoon active dry yeast
1 teaspoon white sugar
2 cups all-purpose flour
1 teaspoon salt
¼ cup ghee
2 tablespoons plain yogurt
2 teaspoons kalonji (onion seed
Step 1
Mix the warm water with the yeast and sugar ( usign a Whisk ) until the yeast is dissolved. Cover and let stand in a warm place for 12 minutes.
Step 2
Sift flour and salt three times into a large bowl add the yeast mixture, half of the ghee and all the yogurt. Mix into a soft dough then knead on a floured surface for about 5 minutes or until dough is smooth and elastic. Place the dough in a large greased bowl, cover and let stand in a warm place for 1 1/2 hours or until the dough is doubled in size .
Step 3
Punch down dough then knead for 5 minutes. Divide dough into 6 pieces. Roll each piece out into 8 inch round naans.
Step 4
Cover an oven tray with foil and grease the foil. Brush the naan with a little of the remaining ghee and sprinkle with some of the kalonji. Cook naan one at a time under the broiler for about 2 minutes on each side or until puffed and just browned.
Ghee for Beauty regimes
Glowing skin
Mix 1 tsp ghee with raw milk and apply to clean face, wash after 10-15 minutes, the fatty acids from the skin help to remoe toxins and leaves the skin glowign and fresh. do this 3-4 time a week.
Wrinkles
Mix1/2 tsp of both ghee and honey and applt to skin for 20 minutes then wash it off with warm water. Helps reduces blemishes and wrinkles.
Lips
Mix equal amounts of ghee with sugar and in rub on lips in a circular motion, you can leave overnight or wipe of lips with a dry cloth. The sugar acts a exfoliator making the skin supple and soft.