Curry leaves also known as 'kadi patta' in Hindi is one of the popular herb used in Indian cooking especially in South Indian cooking. It gives a distinct aroma and flavor to Indian dishes. Curry leaves or curry patta has numerous health benefits. It is a rich source of vitamin A, calcium, folic acid and fiber. Curry leaves oil stimulates hair growth and also helps to prevent premature graying of hair. Today we will learn how to make curry leaves chutney for idli, dosa, appam following this easy recipe.
Karuveppilai Chutney Recipe-Curry Leaves Chutney
Prep Time : 5 mins
Cook Time : 10 mins Serves: 2 Recipe Category: Side Dish-Chutney Recipes Recipe Cuisine: South Indian Author:Padhu Sankar
Ingredients needed
Curry leaves – 1 cup tightly packed Oil – 2 tsp Red chillies – 2 Urad dal – 1 tbsp Hing – a pinch
Grated coconut – 2 tbsp Tamarind -1/4 tsp paste or a small pea sized ball Salt as needed
For the seasoning
Oil – 1 tsp Mustard seeds – 3/4 tsp
Preparation
Wash curry leaves, drain the water and pat it dry with a kitchen towel.
Method
Heat oil in a kadai, add urad dal, red chillies and hing. Saute until dal turns golden brown.
Now add curry leaves and saute in low flame for 2-3 minutes. Add tamarind, grated coconut, salt needed and saute for a few more seconds. Remove from flame and leave it to cool.
Grind it to a smooth paste adding little water. The consistency should neither be thick nor thin, so adjust water accordingly.
Heat a tsp of oil, add mustard seeds, when it splutters, pour the seasoning on the chutney. Mix well and serve with idli, dosa or appam
Curry Leaves Dip Thokku-Karuveppilai Thokku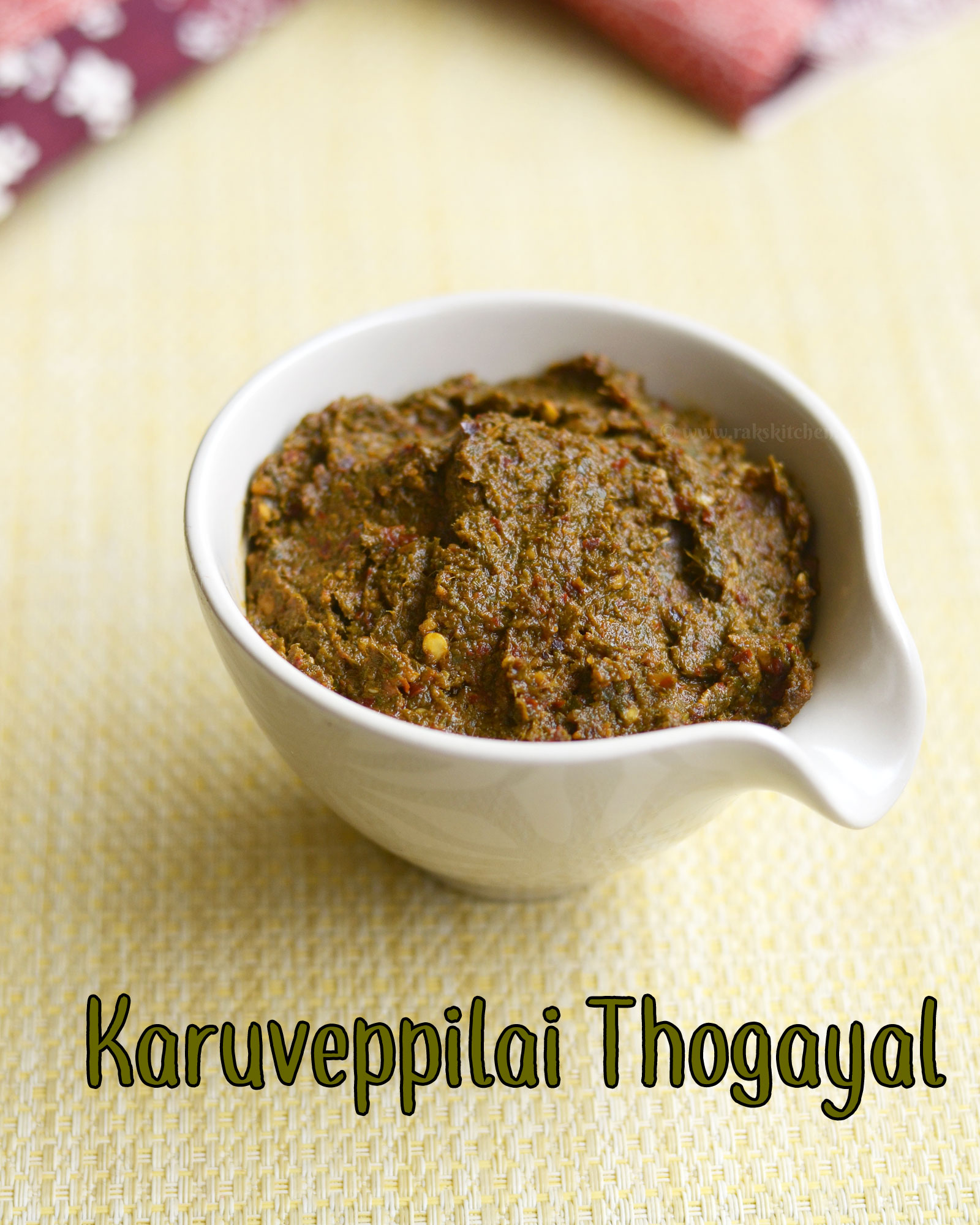 Prep Time : 10 mins
Cook Time : 15 mins Yields:1 Cup Recipe Category: Pickle Recipe Cuisine: South Indian Author:Padhu Sankar
Ingredients needed
Curry leaves/Karuveppilai – 1 cup tightly packed Chilli powder – 1 1/4 tsp or according to your taste Tamarind – Small gooseberry sized ball Fenugreek powder -1 tsp Salt needed
For the seasoning
Oil -2 1/2 tbsp Mustard -1 tsp Hing/Asafoetida – a generous pinch
Preparation
Dry roast fenugreek seeds and powder it. Usually I dry roast 1-2 tbsp of fenugreek seeds, powder it and store it to use for my pickles and thokkus.
Soak tamarind in 1/4 cup of water and extract its juice. Discard the pulp.
Wash curry leaves and grind it with a little water to a smooth paste.
Method
Heat oil, add mustard, hing, when mustard splutters, add the ground paste and cook for a few minutes.
Then add tamarind water, needed salt, chilli powder and cook until oil separates.
Finally add a tsp of fenugreek powder, mix it well and switch off the flame.
After it cools, store in a clean bottle and use it when needed. It stays good for about 10-15 days in the refrigerator.
Tips for the busy women -If you do not have much time on hand to do any elaborate cooking, just mix this thokku with hot steamed rice, top it with a tsp of sesame seed oil/ghee and enjoy it with chips or papads or appalam.
Karuveppilai Podi ( curry leaves powder)
Prep Time
10 mins
Cook Time
18 mins
Total Time
30 mins
Karuveppilai podi-Curry leaves powder is made from fresh curry leaves and spices. It can be had with rice or with idli, dosa. These podis come handy when you run out of time or when you feel lazy to cook. It can be stored for a month and can be used when needed. Nothing can beat the flavor of fresh homemade curry leaves powder. Hot steamed rice topped with a tsp of ghee and curry leaves powder is heavenly.
Cuisine: South Indian
Ingredients needed
· 1 cup Fresh Curry leaves (very tightly/firmly packed)
· 2 tsp Whole black Pepper
· 2 tsp Cumin seeds/ jeera
· 2 tbsp Tur Dal-
· 2 tbsp Urad dal
· 2 tbsp Bengal gram or channa Dal
· 3-4 Red Chillies or as needed
· Salt needed
Instructions
Preparations
1. Wash curry leaves well, pat it with a towel to remove excess water and dry it well in the shade.
2. Spread the washed curry leaves on a cloth and let it dry for 5-6 hours. There should not be any moisture in the curry leaves.
Method
1. Dry roast tur dal, urad dal, channa dal (kadalai paruppu) until dal turns golden brown.
2. Then dry roast pepper and jeera separately until you get a nice aroma.
3. Dry roast red chillies for a few minutes.
4. Dry roast curry leaves well. Do not burn it. (the leaves should break when you crush it with your fingers)
5. Dry grind the dal, pepper and jeera first. Then add curry leaves and grind everything together (slightly coarse) along with salt required.
6. Store it in an air tight container so that it does not loose its freshness.
Recipe Notes
Oil is not required for roasting